The Growth Stage Company Finance Team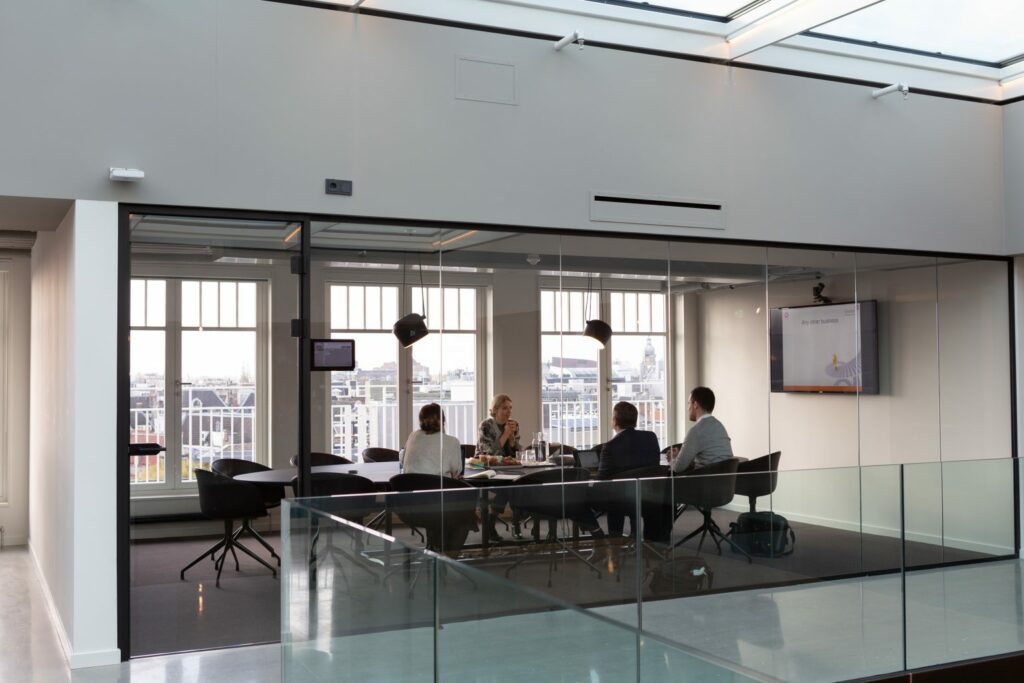 There is simply no one-size-fits-all in corporate finance. Companies grow and evolve over time and their financial operations become more complex. Hence, if a startup finance team was responsible for such functions as cash management, credit control, financial analysis, and compliance, the same team at a larger-scale company would have different or expanded responsibilities. Usually, this next phase of the business' life cycle is its growth stage. By this point a company's products or services would have become recognizable to consumers, sales would have sped up, and revenue models would've started to pay off.
Of course, increased transactions also bring about an expansion in the finance team. Hiring managers and HRs get to work and start looking for the next crucial player to join their ranks. When considering joining this type of organization, it's important to recognize the roles, responsibilities key functions, and benefits of a growth stage company's finance team. So you can be in a better position to decide if it is the right fit for you as a finance professional.
Roles and Responsibilities in a Growth Stage Company Finance Team
As a company enters the growth stage, they will likely build upon the structure their finance department already had in place during the startup phase. Naturally, some of the roles and responsibilities remain the same (CFO, Accountant, FP&A Analyst). Yet, additional hires (Financial Controller, Payroll Manager, Tax Director) and restructuring are necessary as the next stage in the business life cycle commences:
• CFO
A CFO works with the CEO to guide the company's financial strategy during the growth stage. They will be responsible for overseeing the entire finance team.
• Accountant(s)
At this point in a company's life, several accountants might need to come on board to continue managing mounting inbound and outbound cash flows, as well as to summarize and communicate financial information.
• FP&A Analyst
An essential part of the finance team, the FP&A Analyst focuses solely on analysis and financial planning. This included capital budgeting and preparing the master budget in collaboration with the CFO.
• Financial Controller
Financial Controllers are corporate finance professionals in charge of procedures and reporting systems. In addition, this individual will be acting as the bridge between the organization's accounting team and top management by implementing a system of checks and balances that prevents overspending and ensures liquidity.
• Payroll Manager
As a company grows and expands to include additional employees, it might become necessary to hire a Payroll Manager. This individual will be solely responsible for handling payrolls and ensuring that all members of the company receive timely remuneration.
• Tax Director
In the height of the growth stage, compliance and protection from liability become a major focus for the company. So, it might be necessary to hire an individual who will be held responsible for ensuring procedures stand legal ground. In addition, they must also plan ahead for audit reports.
Following new adjustments during the growth stage, and more team members joining the finance department, its structure begins to look something like this: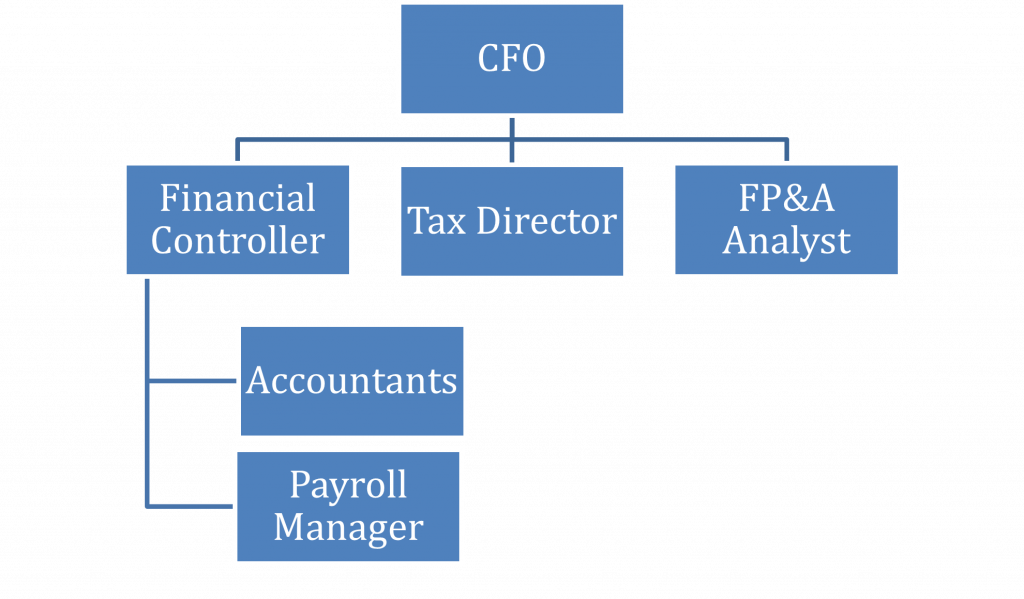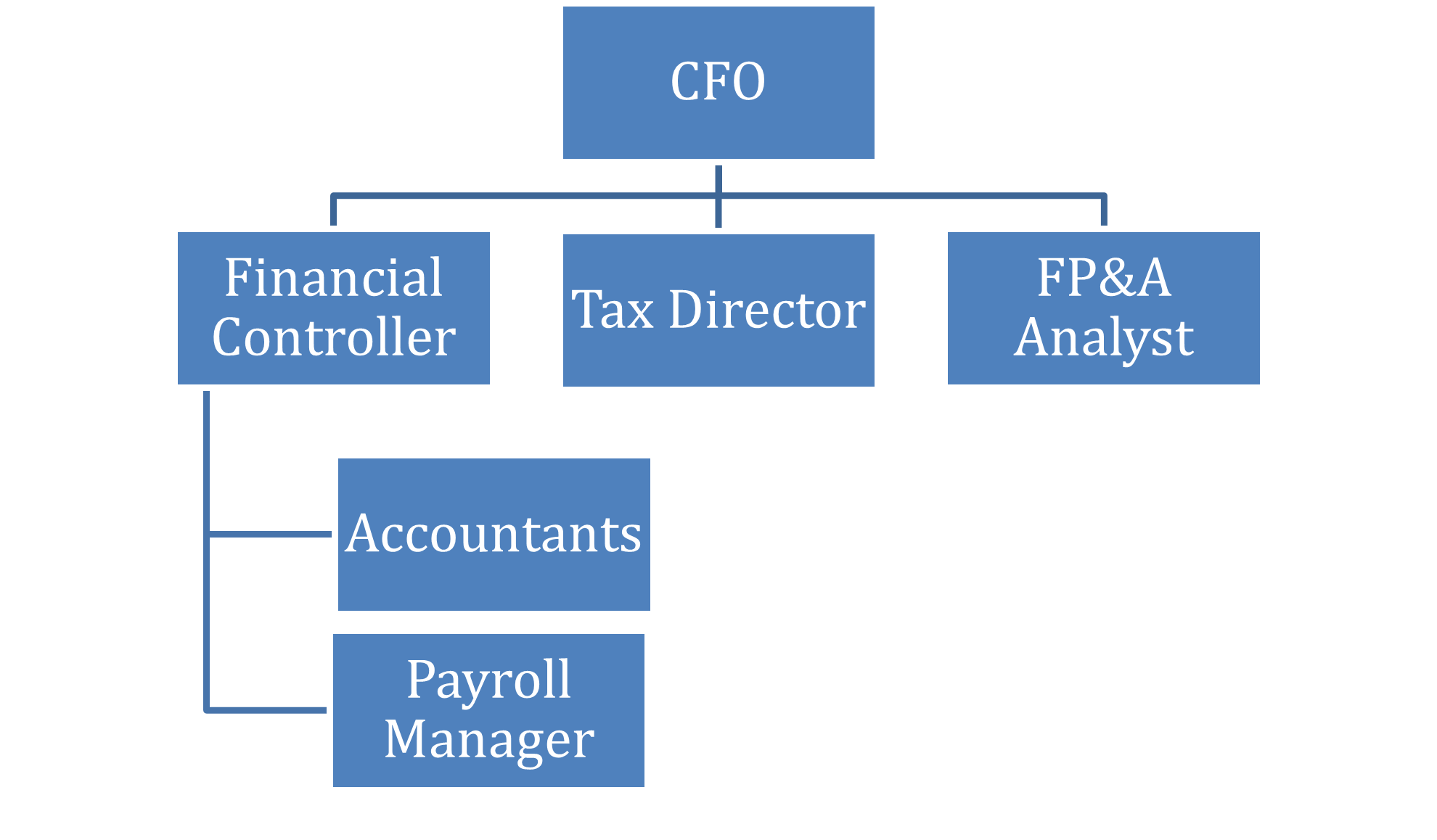 Over time, these six roles prove essential for the smooth running of a growth stage company's finance team. So, by investing in a robust structure to support the business's functions, an organization can truly set itself up for continued success.
Functions of a Growth Stage Company Finance Team
As the finance team grows and changes, its main functions stay relatively the same. But individual finance professionals become more specialized. Hence, each function takes on a more distinct character as new experts join the team. Here are 6 main functions present in most growth stage companies' finance teams:
1. Cash Management
Firstly, cash management remains an essential priority. While Accountants are naturally still responsible for this function, the Financial Controller acts as accounting manager to ensure timely and accurate handling of accounts payable and accounts receivable.
2. Credit Control
Still on the forefront of the finance team's functions is credit control. Ensuring timely payment of company debts, and the availability of liquid cash remains the responsibility of Accountants. Additionally, this function includes tracking and receiving any debts owed to the company by customers.
3. Payroll
Now that the accounting team is more robust, the Payroll Manager can take over paying employees as the Accountants handle the growing volume of bookkeeping duties. Hence, the Payroll Manager becomes responsible for onboarding new employees to payroll systems, managing data and ensuring timely and accurate remuneration for every member of the company.
4. Control and Management
Any time a department expands, the need for proper management grows as well. In other words, the more team members come on board, the more management-heavy daily finance operations become. Thus, the Finance Controller begins to build rapport with the team of Accountants. At the same time ensuring that measures are in place to protect the company from financial distress. The CFO will continue managing at a high level. But much of the control and management now falls to the Finance Controller.
5. Financial Strategizing
M&A's typically occur during the growth stage. So, there is increased need for analysis and strategy on the part of the FP&A Analyst and the CFO. In the event that a merger or acquisition does seem to be a beneficial opportunity strategizing will become top priority. These high-level finance professionals will manage due diligence and plan for the timeline and deliverables necessary for this large project.
6. Compliance
As the Tax Specialist ensures that procedures comply with current tax law, much of the burden of compliance will be taken off the CFO. Insurance, legal, and risk management will still fall under the CFO's responsibilities. But the dedicated tax specialist will now take over guaranteeing compliance with government regulations.
Benefits of Working in a Growth Stage Company
A growing company is one that is on the road to becoming well-established in its industry. Hence, it can be a rewarding environment to work in, as well as a challenging and still moldable enterprise:
• Specialization of Roles
At this stage in a company's life cycle, the functions of the finance team become more distinct. Most companies have drawn up clear operational procedures at this point, making detailed expectations for their finance staff. For those who enjoy stability and clarity, this can be incredibly beneficial.
• Moldable Structure
However, many challenges still lie ahead at this stage of the organization's development. So, be prepared to weather an M&A or a restructuring of the firm as they continue to find their footing in the market. This means more internal growth opportunities and higher-stake projects that will allow a finance professional to prove their worth.
What's Next?
To support your organization during such exciting times, you will need a top-tier financial skillset. Finding and evaluating growth opportunities, setting the stage for a merger or a restructuring requires the research skills and financial acumen that comprehensive training such as our Complete Financial Analyst course is guaranteed to provide.
However, if this type of culture sounds too uncertain to you, the finance team of an enterprise company might be a better fit. This is the next phase of the business life cycle that can prove more secure for professionals who desire a fixed and steady environment.

Ready to take the next step towards a career in Finance?
From foundational topics in Accounting and Financial Analysis, through Corporate Finance and M&A, to specialized Fintech and Economics courses, the 365 Financial Analyst curriculum is designed to prepare you for the world of Finance as it is today. Whether you are a total beginner or a working professional, our expert-led courses offer the opportunity to upskill at your own pace. Find the right fit for you and start learning today!
We Think You Will Also Like