Earn a Course Certificate
Prove you're a qualified professional with a verifiable finance certificate of achievement.
Get Started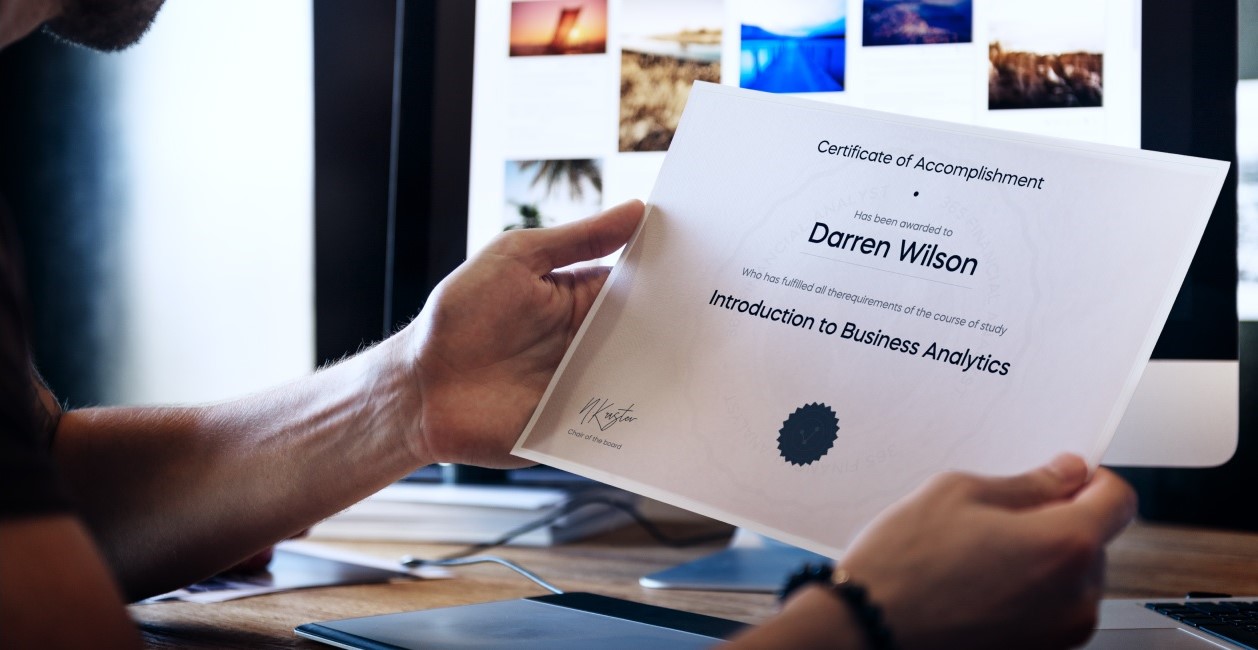 Your 365 Financial Analyst Course Certificate Is Only Three Steps Away!
Enroll in a Course
Choose a course, watch the video lessons, and complete the practical exercises to boost your skill set.
Test Your Knowledge
Take the exam at the end of the course to demonstrate what you've learned.
Get Your Certificate
Pass the course exam and become a certified financial analyst to show potential employers that you're qualified.
Make Your Resume Stand Out
Add your financial analysis course certificate to your resume to illustrate your areas of expertise. Show HR professionals and potential employers that you're an ambitious, job-ready prospect.
Start Building Your Career
FAQs
Need help finding what you're looking for? Visit the 365 Financial Analyst Help Center page or contact us directly.
Can I complete the whole program in one month?
Yes. If you devote yourself to studying, you can get what you need out of the program within a month. But remember that learning requires consistency, motivation, and hard work. Don't set yourself up for disappointment by imposing overly ambitious deadlines. Just focus on studying, and you'll soon see the desired results.
Can I access the program via mobile?
Yes, you can watch video lessons and take quizzes on your mobile, but you'll need a desktop device to complete the exams and assignments.
Who do I contact if I need help?
If you have any course-related questions, you can post them in our Q&A Hub. This is the quickest way to get the answers you need from our qualified instructors.
If you have a question related to our program, payments, refunds, or anything else, contact us at team@365financialanalyst.com.
Either way, we are here for you and will do our best to help you!
Is there a schedule I must follow?
No, there isn't. Our curriculum is entirely self-paced, and you are free to select and rewatch any of the courses in your own time. We spare you the pressure typical for live training programs by allowing you to shape your learning around your schedule.
Although you don't have to follow the proposed order of courses, it is helpful to do so in the beginning. For those of you who don't know where to start, we recommend choosing one of our structured career tracks. They help organize your learning without imposing any deadlines.
How can I track my overall progress in the program?
You can track your progress on your user dashboard. Log in with your credentials to the 365 Financial Analyst learning platform to access it.
How does the monthly subscription work?
After subscribing, you will be billed the same amount each month on the date you made your initial purchase. If you subscribe and pay the first month's fee on December 14th, the next month's payment will be automatically withdrawn on January 14th, and so on. If you have any questions about billing, please get in touch with our team at team@365financialanalyst.com.
Can I receive invoices for my payments?
When you complete a payment with 365 Financial Analyst, you will receive an automatic email with your receipt. No other action is required to get a receipt.
If, however, you need an invoice, you must check the "I need an invoice" box under "Account details" on the checkout page and fill in your company information. Remember, you must do this before you proceed to step two: payment. We can't issue an invoice afterward unless you check the box.
Follow these steps to access your receipts and invoices (if you have opted in to receive them).
Log in to the platform using your credentials.

Click on your profile picture at the top-right corner of your screen.

Select "Billing Information" from the dropdown menu.

Navigate to "Billing history" at the bottom of the page.

Click on "Download" to receive your receipt or invoice in PDF format
If you are experiencing any difficulties accessing your billing information, please send us an email at team@365financialanalyst.com.
I purchased an annual plan but completed the program in less than a year. Do I get a refund for any unused period?
Unfortunately, we can't refund or prorate unused portions of a subscription if more than 30 days have passed since your initial purchase. If you get an annual plan, you will have access to all resources until the end of the one-year period, regardless of how long it takes you to complete the program.
That being said, we upload new content regularly, so there will always be something new for you to learn on our platform.
Do you offer discounted subscriptions?
We believe financial education should be accessible to all. Although we don't offer discounts on our standard pricing plans, we have a free plan that allows prospective students to try the 365 Financial Analyst program. If you sign up for free, we'll notify you about upcoming promotional campaigns, so keep an eye out.
Is there a set time limit for completing the full program?
We understand that many of our students are taking the courses together with working, other studies, and daily life. Great news – there is no time limit on completing any of the courses involved in the program, so you can shape it around your schedule!
Whether you finish a course in a week, month, or year, you'll still be 100% eligible to receive all of the certificates that you have earned. If you have any questions or concerns about balancing your life with the program, just get in touch with us at team@365financialanalyst.com, and we'll be happy to give you advice.
Start Learning Today
Join one of the best finance certification programs and boost your career.
World-class instructors
Exams testing your knowledge
High-quality video courses
Certificate of achievement