Become a financial analyst
Meet and exceed your potential with our expert courses, designed to build your knowledge
and prepare you for the competitive and complex world of finance.
Choose from a wealth of materials that cover career-critical areas, including financial analysis,
investment banking, business analysis, accountancy, private equity analysis, asset management,
credit risk analysis, business control, and auditing.
Do you want to pursue a career in finance? Our complete training will prepare you for a job as a financial analyst, investment banker, business analyst, accountant, private equity analyst, asset manager, credit risk analyst, business controller, or auditor.
Get the Skills Finance Employers Are Looking For
Join over 1,000,000 students from 210 countries and take our easily digestible, concise, and carefully planned courses. Covering a complete range of skills required for entry-level positions, they will help you land your dream job with the world's top employers.
a certificate that will get your foot in the door
Top employers recognise our certificates
The 365 Financial Analyst Certificate ® is proof of your expertise in the field and is an effective foot in the door of many leading employers. Starting with the fundamentals before moving onto advanced topics, your learnings will consist of 9 mandatory courses, with a minimum of 7 electives.
The program covers MS Office Productivity, Accounting and Financial Analysis, Trading & Investing, Business Analysis & Strategy, Economics, Statistics for Finance, Corporate Finance and M&A, Data Visualization, and FinTech, and more.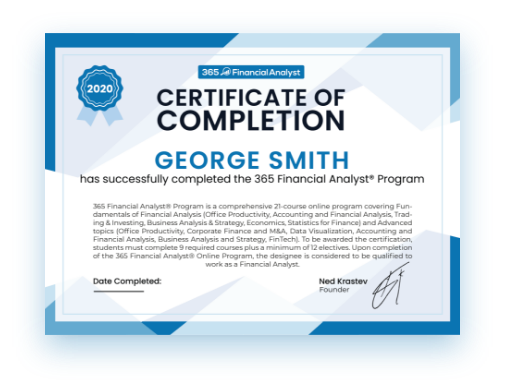 What People Say About Us?
Tatsiana Kalinina
★ ★ ★ ★ ★
This was a really cool course that was perfectly structured to help me learn a lot of valuable skills. The real-life business examples were very intersting and put things into a great perspective. Thanks a lot for all the work 😊
Abraham Eninla
★ ★ ★ ★ ★
Wow! This was a great experience for me. Before purchasing this course, I went through the reviews and felt confident to give it a try. I'm really glad I did, and I would recommend anyone to do the same. The trainer had a really strong knowledge of the subject and I learned a lot.
Aleksandra Hegedis
★ ★ ★ ★ ★
This is the best introductory finance course I have taken so far. It was clear, simple, not too long and covered everything I needed to know. The graphics and explanations were great, especially for a beginner like me (I am a philologist so go figure). The narrator has great dynamics and really made it enjoyable. Looking forward to taking another course!
Rafael Taguas-Sanchez
★ ★ ★ ★ ★
This was a very well-structured course within such a difficult topic. With so much detail, it would be easy to get lost, but this course had everything laid out in a really easy way, giving you the big picture with all the info you need. This was a great first step for me and I will be continuing my education with you guys. Congratulations on the great work.
Lee-Ann Naidoo
★ ★ ★ ★ ★
A really thorough finance course with great details on each module, broken down in smaller sections which was great for understanding and learning. A truly remarkable course for anyone wanting to learn.
Babs Sokeyo
★ ★ ★ ★ ★
This course is not like the other ones I've seen online. It does what it says on the tin and was obviously made as a labour of love by the trainer. The information is comprehensive and easy to understand, with plenty of practical examples to support the theory. I'm really grateful that I found this course, and for the fantastic support I got along the way.
We've Helped Thousands of Students
Differentiate Themselves
Our Graduates Work at Exciting Places!