Financial statements provide information about the financial performance and position of an organization. Stakeholders generally use four major financial statements, found in the Annual Report of a company.
The Statement of Financial Position
The Statement of Comprehensive Income
The Statement of Changes in Equity
In this article, we will examine these separately.
1. The Statement of Financial Position
Imagine you consider investing in some common shares of a company called ABC Corporation. How do you know whether this is a good investment? The first thing you do is check its Statement of Financial Position, also known as the Balance Sheet.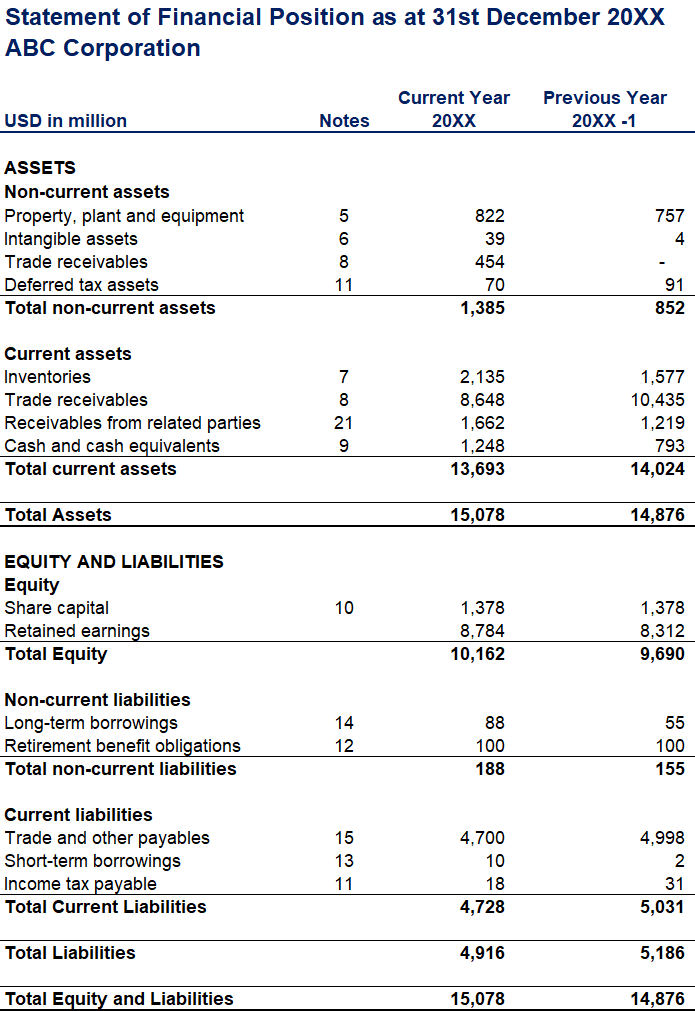 In short, it summarizes what ABC Corporation owes and owns at a certain date. Think of it as a "snapshot" of the company's financial position as at a given point in time. Most firms prepare their Statement of Financial Position as at 31st of December each year. Normally, such statements are prepared for two consecutive periods – the current year and the comparative previous year.
Any Balance Sheet consists of three main elements. First, you see Total Assets, which represent the resources controlled by the enterprise. Second, there are Total Liabilities or the amount of money owed to lenders and other creditors. This is the debt of the company, resulting from past events and business activities. And third, you notice an item called Total Equity. This is the owners' residual interest in a company's assets after deducting its liabilities. The Statement of Financial Position is based on the basic accounting equation:
Total Assets – Total Liabilities = Owners' Equity
The difference between Assets and Liabilities is sometimes referred to as net assets or net worth. In all instances, Total Assets must reconcile with Total Equity and Liabilities. This holds true in ABC Corporation's Balance Sheet. Total Assets are $15, 078 million; Total Equity, or net worth, is $10,162 million; and Total Liabilities are $4,976 million. There are many line items included in any Balance sheet that you can read more about here.
2. The Statement of Comprehensive Income
The Statement of Comprehensive Income, commonly known as the Profit and Loss Statement, tells us whether an organization generates a profit or a loss for a period of time. Furthermore, it allows for an indication of important trends, such as revenue growth and the incidence of gross profit, operating profit, and net profit on revenues. Thus, it helps us understand whether the operations of a firm created economic value over a certain timeframe.
Typically, the Statement of Comprehensive Income is prepared on an annual basis. However, most publicly-traded companies produce a Profit & Loss Statement quarterly or for a 6-month period. In general, it has two primary elements.
First – The Income Statement. All revenues and expenses that stem from the normal course of business operations are recorded here. The bottom line of the Income Statement is the Net Income for the period.
And second – Statement of Other Comprehensive Income which reports all income and expense items that are not recorded in the Income statement but affect Owners' Equity.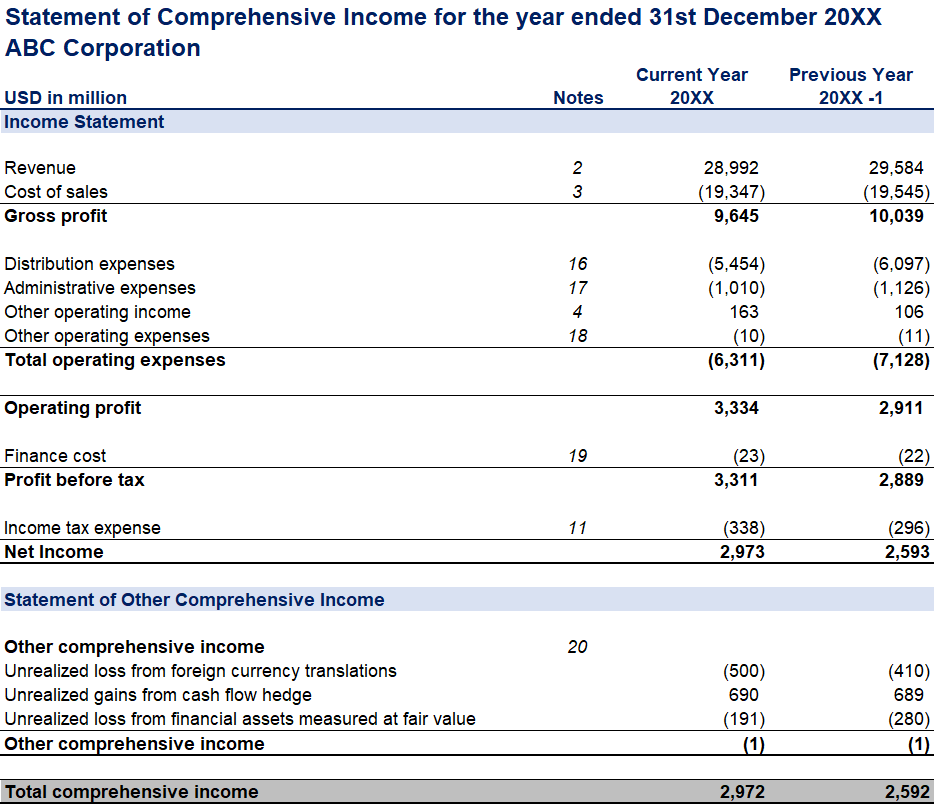 3. The Cash Flow Statement
Provided that "profit" and "cash generation" are two different things, you need a statement that illustrates any changes in the cash balances during a given period. In this way, you can evaluate a company's liquidity more precisely. The Cash Flow Statement compiles cash and cash equivalents that have been generated (cash inflows) and spent (cash outflows) within a fiscal period. Based on the specific business activities for which a firm pays or receives cash, the Cash Flow Statements consists of three major sections. These are operating activities, investing activities, and financial activities.
Cash flow statements are prepared using either the Direct or Indirect Method. For more information, please read here.
Firms that seemingly generate profits but are not liquid enough to maintain their operations are at risk of going out of business. Therefore, analyzing a company's Cash Flow Statement is an inextricable part of thorough financial statements' analysis.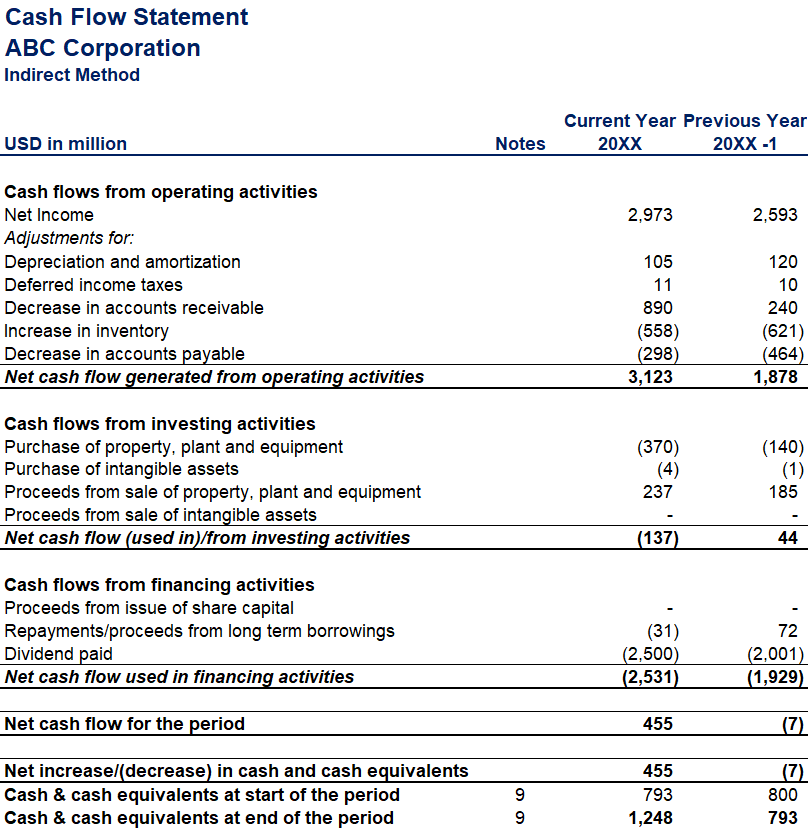 4. The Statement of Changes in Equity
At last, the Statement of Changes in Equity compounds the changes in Owners' Equity that have occurred during a certain period.
If ABC Corporation issued some share capital or distributed dividends to its stockholders, one can see that in the Statement of Changes in Equity. A word of caution! To understand why Equity has changed this way, we should take a step back and review the Statement of Comprehensive Income again.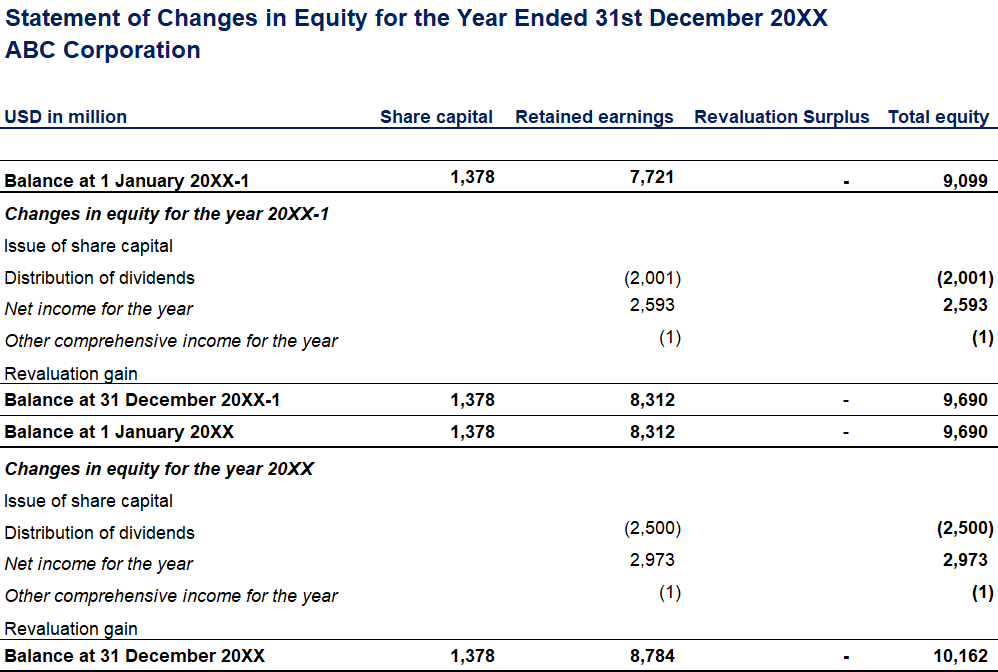 Interrelationship of Financial Statements
All 4 financial statements are interrelated! Users must look at them jointly. Business transactions are intricate, and they influence many items in the financial reports simultaneously.
For example, the profit figure for the year appears in both, the Income Statements and Statement of Changes in Equity. In another instance, if an enterprise raises additional share capital, this will induce modification of its Statement of Owners' Equity and Statement of Financial Position concurrently.
Users of Financial Statements
Financial statements have been broadly used by many stakeholders. Customers, suppliers, potential investors, employees, and creditors are just among a few of them. Those directly concerned with the financial health of a particular business analyze its Annual Report to obtain relevant data.
Scholars incorporate essential information in their business studies and economic analysis; governments examine the reports when tailoring regulations, even authorities turn to them when dealing with labor disputes. From a broader perspective, financial statements provide for a more accurate assessment of political and social policies.
All in all, a well-prepared set of financial reports is at the heart of a high-quality financial analysis!
Stay with us for more useful articles!
---
If you want examples of some of the major financial statements in Excel, take a look at our Statement of Financial Position Excel template and Statement of Comprehensive Income Excel template.