A Cash Flow Statement is a financial statement that illustrates the sources and uses of cash during a specified period. It provides a valuable insight into the financial position and working capital of an organization. Generally, cash flows appear as a result of an entity's operating, investing, or financing activities.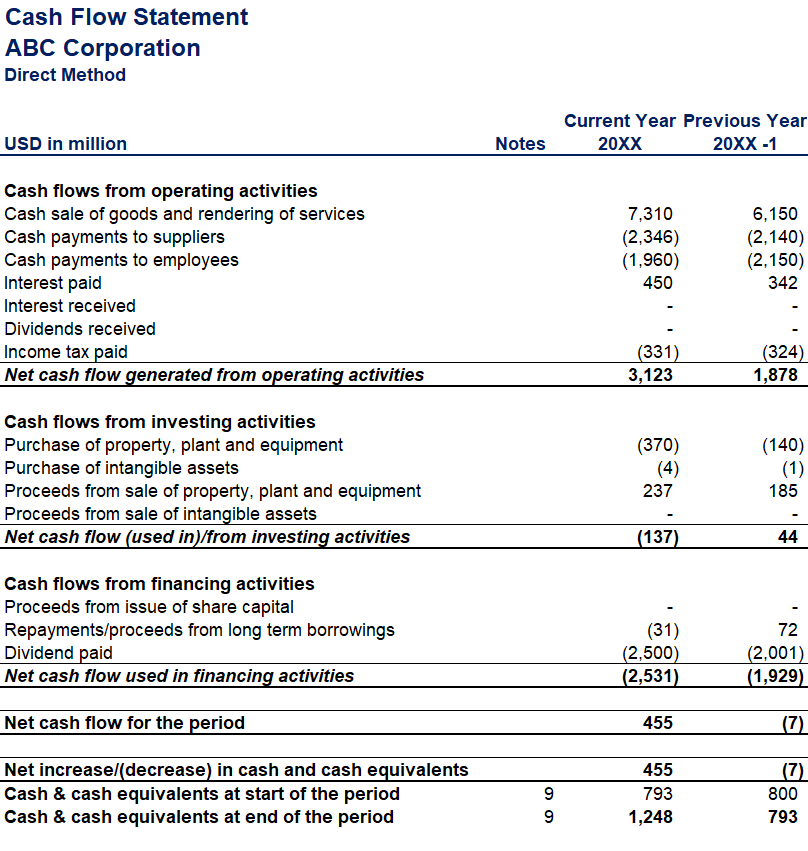 Cash flows from operating activities (CFO)
This is a key part of each cash flow statement. It shows whether, and to what extent, companies generate cash from their core operations. At the end of the day, the net operating cash flows must be enough to cover all cash outflows deriving from the other two sections.
Actually, CFO arise from all the transactions that affect a firm's net income. That's why most of the components of the operating activities section overlap with these determining the net profit or loss for the year.
For example:
Cash receipts from the sale of goods and the rendering of services
Cash payments to suppliers for goods and services
Cash payments to and on behalf of employees
These items impact the Income Statement and are simultaneously classified as cash flows from operating activities.
In that regard, please note that there are a few exceptions to this rule. If ABC Corporation sells one of its production machines at a profit, it will increase Net Income for the year. However, this is not a core business activity for the company. Therefore, the proceeds of the sale are not reported as operating cash inflows. They fall into the cash flows from investing activities instead.
Cash flows from investing activities (CFI)
The cash flows classified under this heading outline the extent to which investments in assets will generate future profit and cash flows. We observe that investments in, or proceeds from, the sale of tangible and intangible assets are often included in this section. In addition, it records cash receipts from sales or cash payments to acquire financial instruments issued by other enterprises.
So, the most common cash flows from investing activities are:
A purchase or sale of an asset
Loans made to vendors or received from clients
Please, make sure that you understand the difference between CFO and CFI. The purchase of debt or equity instruments, as well as the sale of such instruments, are indeed reported as investing activities. However, the income related to these instruments, in the form of interest or dividends received, is reported as an operating activity. The same goes for interest paid. In fact, IFRS And US GAAP treat some of these items separately.
Cash flows from financing activities (CFF)
These refer to the share of cash transactions that affect a company's capital structure. Typical cash flows from financing activities are:
Cash proceeds from the issuance of new shares
Cash payments to stockholders to redeem shares
Cash dividends paid
Cash proceeds from the issuance of bonds, loans, notes, and other short-and long-term borrowings
Repayment of borrowings
Net Cash Flow
Logically, the sum of cash flows from operating, investing, and financing activities gives us the company's net increase or decrease in cash. This is the total cash generated (given with a plus sign) or used (when it is a negative sign) during a period.
Looking at ABC Corporation, we see that it has generated $3,123 million from operating activities in the latest financial year (please see table above) whilst using $137 million and $2,531 million in investing and financing activities, respectively. This results in a net increase in cash flows of $455 million during the currently reported year:
$3,123M – $137M – $2,531M = $455M
To cross-check whether this number is correct, we can simply refer to the Cash and Cash Equivalents in ABC Corporation's Statement of Financial Position. At the end of the previous year, the company had an outstanding cash balance of $793 million. At the end of this reporting period, it has $1,248 million, so:
$1,248M – $793M = $455M
Once again, we arrive at the same figure as the net change in cash, reported in the Cash Flow Statement!
Why do we need to cluster cash flows from different business activities after all?
Distinguishing between the sources and uses of cash arising from operating, investing, and financing activities gives us a better idea of how a company makes and spends its money. Digging deeper, users of financial statements may see the impact of business transactions on each component and their relationships with each other.
In a nutshell
Cash flows from operating activities consist of cash transactions affecting a firm's net income.
Cash flows from investing activities result from investments in fixed assets and other long-term investments.
Cash flows from financing activities include transactions that affect an entity's capital structure (both debt and equity).
The sum of the three gives a company's Net Cash Flow. This figure must reconcile to the difference between the cash balance at the end of the current period and the amount of cash outstanding at the end of the previous period.
Additional resources
Besides cash flow activities, there are non-cash transactions that are equally important for the record-keeping and financial reporting of an organization. Use these additional resources to learn more about non-cash items such as amortization, depreciation, depletion!