A Balance Sheet is one of the four major financial statements that various parties use to obtain relevant data about the financial position of an organization. It can be found in a firm's Annual Report.
What exactly is a Balance Sheet?
A Balance Sheet, also known as the Statement of Financial Position, summarizes what a company owns and what it owes. In other words, it portrays how an organization invests its resources (assets), and what the sources of financing that allow such investments are (liabilities). It's like a "snapshot" of a firm's financials at the end of a period.
What are the three major components of a Balance Sheet?
Every Statement of Financial Position has three major elements. The first one relates to the company's assets. These are resources controlled by the entity, expected to bring future economic benefits.
The second section of the Balance Sheet is liabilities, which represent the obligations of a company, arising from past events and business transactions. The settlement of these obligations is expected to result in a future outflow of economic resources.
The third major element is what practitioners call Equity. It merely displays the owners' residual interest in a company after deducting liabilities from assets.
Does the Balance Sheet "balance"?
Yes, it does!
Because Assets minus Liabilities is equal to Equity, we can further reorganize it to obtain the following equation:
Assets = Liabilities + Equity
This is the so-called "fundamental accounting equation" which is the very foundation we use when working with or constructing a Balance Sheet.
This equation could be explained in a slightly different way. If we say that the left-hand side reflects the resources controlled by a company (its assets), then the right-hand side shows how the firm financed the acquisition of these resources – it can be incurring obligations to third parties or increasing owners' share in the business. In all instances, the balance sheet must "balance". There are no exceptions to this rule!
You should keep in mind that the Statement of Financial Position pertains to a specific point in time. For ABC Corporation (see the table below), we establish that the Statement of Financial Position is prepared as at 31st December each year. We say that the balance sheet date is the 31st of December.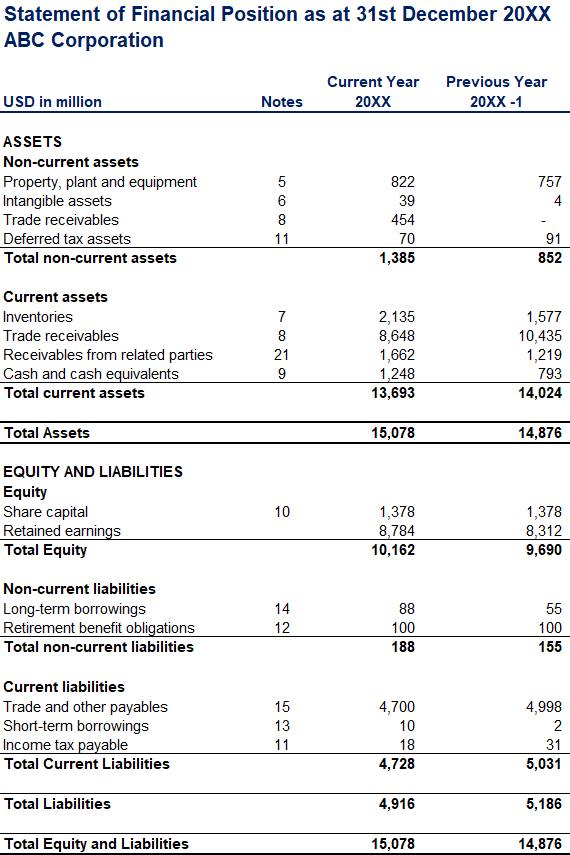 One can distinguish between three major sections: Total Assets, Total Liabilities, and Total Equity. Moreover, there are sub-totals in each section – current and non-current assets, as well as current and non-current liabilities.
Types of Assets
It is fundamental for you to know the proper classification of any sub-categories in the Balance Sheet right from the start. The simplest way to differentiate between current and non-current balance sheet items is to set a threshold of one year after the balance sheet date.
Think about it this way:
If assets are primarily held for trading or are expected to be sold, used, or otherwise realized in cash within one year, they are labeled as current assets. Inventories, trade receivables, cash, and cash equivalents are among the most common current assets lines in every Statement of Financial Position.
For instance, if receivables from clients are to be collected by the 30th of June next year, then we report them as trade receivables in the current assets section. Did you notice that we also have Trade receivables ranked as non-current assets? Some receivables may be overdue or scheduled for receipt later than 31st December next year. That's longer than one year!
From an accounting perspective, assets that will be used over a longer period are defined as non-current, long-term, or long-lived assets. These are property, plant, and equipment (PP&E) owned by the company, intangible assets, financial assets, deferred tax assets, and others.
Types of Liabilities
Similarly, liabilities to be settled within a year after the reporting date are classified as current liabilities. "Trade payable" is usually classified as a current liability. Companies usually pay their suppliers in 30 to 90 days, depending on the specific agreements. Even though various payment periods may apply, they are usually shorter than 1 year. That's why trade and other payables are always included in the current liabilities section of the Balance Sheet.
Current income tax payable is normally due in three months after the balance sheet date, thus, you will find it in the current liabilities section, too. So are borrowings which are due within 12 months.
Non-current liabilities, on the other hand, are obligations expected to be settled after more than one year of the balance sheet date. Some of the common items you will find in this section are long-term borrowings and retirement benefit obligations owed to employees.
What is Equity?
Total Equity, also known as net worth, represents the owners' residual interest in a company's assets, after paying off its liabilities. To calculate the Owner's Equity of an organization, one must subtract Total Assets from Total Liabilities. If a firm was to liquidate its assets and liabilities, Owners' Equity would be the amount shareholders received. Therefore, many consider it to be an illustration of a firm's net worth or book value.
Learn More about Balance Sheets
The Balance Sheet is an important report that investors and analysts use for conducting fundamental analysis and calculating financial ratios. Classified Balance Sheets are also quite helpful in that respect.
For more information on how to interpret Balance Sheets, keep reading our articles!