Resolved: Unable To Get No. Of Records Auromatically
Hi Ned,
In the video, you got No. Of Records field automatically. I am unable to get it. Please advise.
Is there any way I can get it manually, if not automatically?
4 answers ( 1 marked as helpful)
Hi Minaal,
Do you want to share a screenshot, please?
Originally, I am getting the following by default-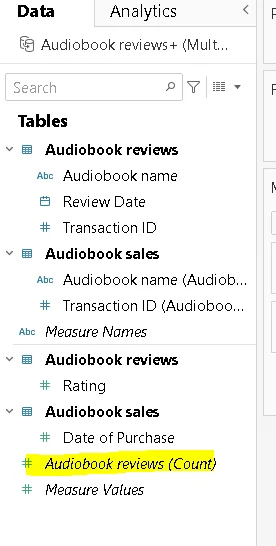 In ref. to the query I stated, I tried creating a calculated field -> COUNT([Transaction ID (Audiobook sales)])
It kept taking the count of the Transaction ID of the Audiobook Review file, even though I used Replace Reference to Transaction ID (Audiobook Sales). I am kind of stuck on this.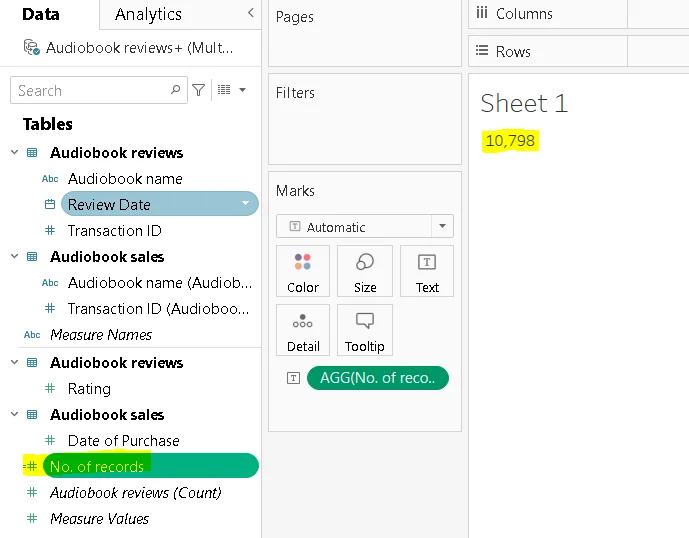 Not sure if this will help....first, make sure you start with the audiobook sales table and then join the reviews table. The order matters when you are doing a left join on transaction ID since we want all records from the sales table and just the records that match transaction ID from the review table. Also, change the date of purchase to Date type. Below is how my Tableau tables look on the left of the Sheet 1 tab:
The "# Audiobook sales (Count)" is the same as the # number of records. Just drag "# Audiobook sales (Count)"
in the sheet and you will get the same results.
related questions