Porter's 5 Forces Analysis of Walmart – A Practical Example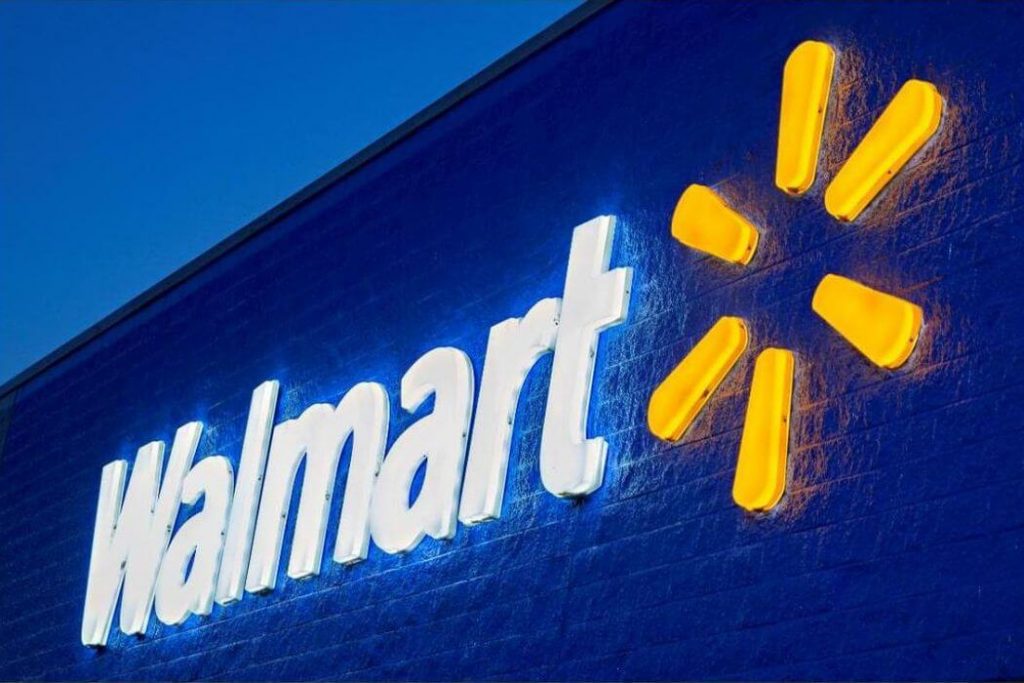 Porter's 5 Forces framework helps us evaluate the competitive environment in an industry. The use of this tool is broad in range and strategic in nature. The results of the analysis lay a solid foundation for making the right strategic decisions. Let's find out how it works in practice!
For simplicity, we split the whole process into four stages:
Stage 1: Define area of interest
Stage 2: Collect data
Stage 3: Analyze the data
Stage 4: Draw conclusions and recommendations
Stage 1: Define Area of Interest
Suppose that you are a Strategy Manager at Walmart. The dynamics of today's business environment are constantly changing, especially in the retail industry. Competing against big players like Amazon, Costco Wholesale, and Target requires regular industry analysis. To assess Walmart's competitive position, you decide to conduct Porter's 5 Forces analysis.
In reality, many business professionals analyze a whole industry rather than an individual organization. Mostly, threats and opportunities within an industry will coincide with those of a specific company. But not always! At the end of the day, it all comes down to the type of information you need.
Here, we shall focus on Walmart in particular.
Stage 2: Collect Data
This stage is all about data collection. You look for valuable information about the retail industry, focusing on Walmart's competitors, buyers, suppliers, newcomers, and substitutes. We use this data to evaluate each of the factors that make up the five forces. Feel free to look up Walmart's Annual Reports as well.
Below, you can find a handy table that shows you the most prominent points to look for when collecting industry-specific information for each of the forces in Porter's model:

You can follow these pointers to help you organize your findings better. Of course, the list is not exhaustive. If there is anything you feel will make a big difference for Walmart's competitive position, write it down even though it isn't included in this table!
Stage 3: Analyze the Data

This is the information you have gathered after carefully examining Walmart's Annual Reports and other relevant business data: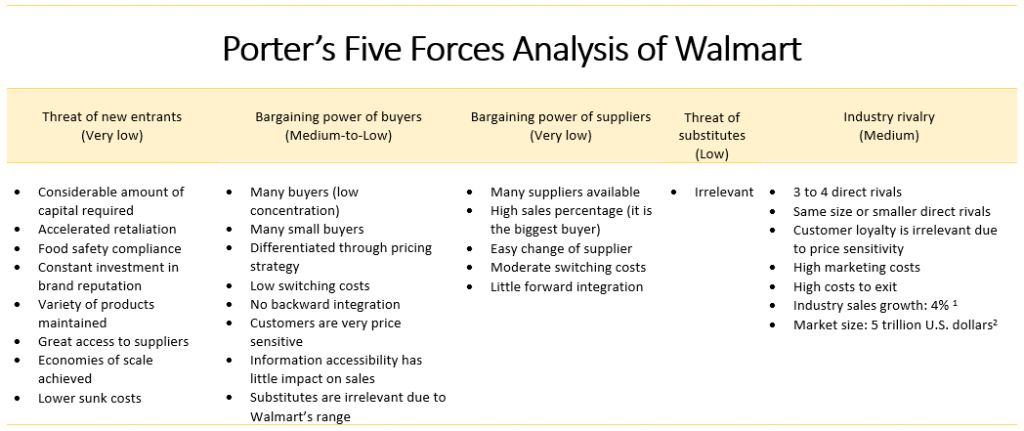 Threat of New Entrants (Very Low)
Walmart is a giant in the retail industry. As such, it invests a lot in sales and marketing, distribution, and product development. If another party wants to join the industry, they should put down a huge amount of initial capital to compete against existing players. After all, all retailers strive for the same number of buyers, while offering somewhat similar products. Overall, severe retaliation makes it hard to survive in the retail business. On top of that, Walmart sustains a great relationship with suppliers and sells to a great number of customers. So, economies of scale surely work in its favor. Because of its well-designed distribution systems and range, we observe reduced sunk costs, too.
Knowing all this, we can say that the risk of new joiners seems mitigated. As a result, the threat to new entrants is ranked very low.
Bargaining Power of Buyers (Medium-to-Low)
Walmart deals with many small buyers on a daily basis, which disseminates the purchasing power of those buyers. Contrary to popular belief, those customers exert moderate-to-low power over the retail giant. That's because the store's low-price approach and convenience are difficult to find anywhere else. As a result, the company does not feel much pressure from customers when it comes to pricing. At the same time, the constant need for specific new brands that are currently not in stock weakens Walmart's power as a buyer and strengthens the power of its customers. Besides, switching costs are low – anyone can do purchases at a different store. However, buyers are highly sensitive to price changes, thus they mostly find Walmart to be the best choice to satisfy their needs. As for substitutes, Walmart is too big to worry about that- its product variety, low prices, and location advantages can hardly be beaten.
That's why the bargaining power of buyers is evaluated as medium-to-low.
Bargaining Power of Suppliers (Very Low)
The store chain purchases products from different suppliers. For those producers, Walmart is a buyer, one of the main players to supply products or services to. With the large purchasing volumes and broad customer reach, Walmart thus appears to be a buyer of high power. That's why its suppliers make sure they cater to its needs at all times. They even build their operational centers adjacent to the store locations, simply to meet Walmart's demands. And if a supplier isn't able to accommodate its requests, Walmart is confident enough to just switch to a different one. All this weakens the power of suppliers. Of course, companies like Coca Cola are some of the very few that can overpower Walmart, as they are equally strong and can supply the end customers by themselves. What's more, Walmart employs a Supplier Diversity Program as part of its Corporate Social Responsibility outlook. This further mitigates its dependency on a single distributor.
In short, Walmart is a strong buyer whose suppliers exert extremely low power.
Threat of Substitutes (Low)
Walmart offers a great variety of products and item categories – from groceries to household appliances. It is unlikely that a product isn't available in Walmart but available somewhere else. With its broad range, the retailer fights no strong substitution. A product and all its substitutes will probably be available at Walmart. The retail giant should only worry about industry rivals like Target that, in turn, may attract people by offering comparable product diversity. Yet, this has to do with industry rivalry, and not product substitution.
Since almost all product variations are easily found on the store shelves of Walmart, there is no real threat of substitutes to consider. Hence, it is irrelevant in the analysis.
Industry Rivalry (Medium)
With a stable 4% industry growth and nearly 5 trillion US dollars market size, the US retail industry maintains high competition. When it comes to Walmart, however, the department store chain meets no challenges from small contenders like Sears. The competitive advantage economies of scale and price strategy bring to Walmart can hardly be found elsewhere. There are a few rivals the company must keep a vigilant eye on Costco, Target, The Kroger, and Amazon. Still, their distribution channels and pricing strategies are yet to outperform Walmart's.
Broadly speaking, the retail giant scores medium industry rivalry present in the US retail business.
Stage 4: Draw conclusions and recommendations
The whole purpose of Porter's 5 Forces analysis is to identify which areas companies should focus on when making strategic decisions. For Walmart, this is the industry rivalry, as it is the only one that exerts medium power to its competitive position. That's why the retailer must continuously strengthen its capacity in relation to existing players. To do that, the company should further invest in:
Automation of internal processes for supply chain management
Human resource development
Why so? With improved supply chain operations, Walmart can live up to its mission and vision to be a cost-effective organization. As for human resource development, skilled employees and executives will inevitably bring fresh strategic ideas to the table of how to overcome industry threats while benefiting from any business opportunities.
The bottom line is that these strategic approaches may contribute to better efficiency and business growth. As a result, Walmart can remain persistent in beating the competition.
What's Next?
Porter's 5 Forces model is a valuable tool for competitive analysis, however, analysts often employ other approaches in conjunction. Next, we recommend you take a look at the principles of industry concentration as a factor on pricing power and price competition.
We Think You Will Also Like